The Cause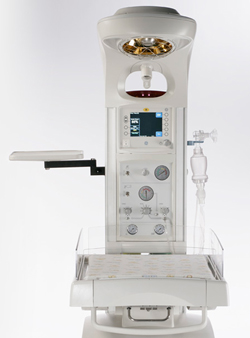 Proceeds from The Sinai Soiree will help purchase a Panda Resuscitation Warmer for the Slaight Family Labour & Delivery Unit at Mount Sinai Hospital, part of Sinai Health System.
When babies first enter the world, they often need help keeping themselves warm. An over-bed warmer (a crib-like structure with an attached overhead heater) has long been used for this purpose. These overhead heaters are functional but present many challenges to healthcare teams. The units often overheat the nurses and physicians attending to the infant, and can make x-rays and surgical procedures awkward to perform.
Panda Resuscitation warmers are unlike any infant warmer currently on the market. They balance and maintain a newborn's body temperature without the need for a large overhead heater. The new heat source has been designed and positioned in a way that bathes the baby in warmth while keeping caregivers comfortable. Its open design allows for easier care and handling of the newborn, meaning that mom and dad can have more physical contact with baby, too. Panda Warmers are also easily adaptable for high-risk births, as they come with a built-in, integrated resuscitation unit. Because Mount Sinai Hospital is a national epicenter for high-risk pregnancies, this new equipment is changing the way we care for our tiniest and most fragile patients.