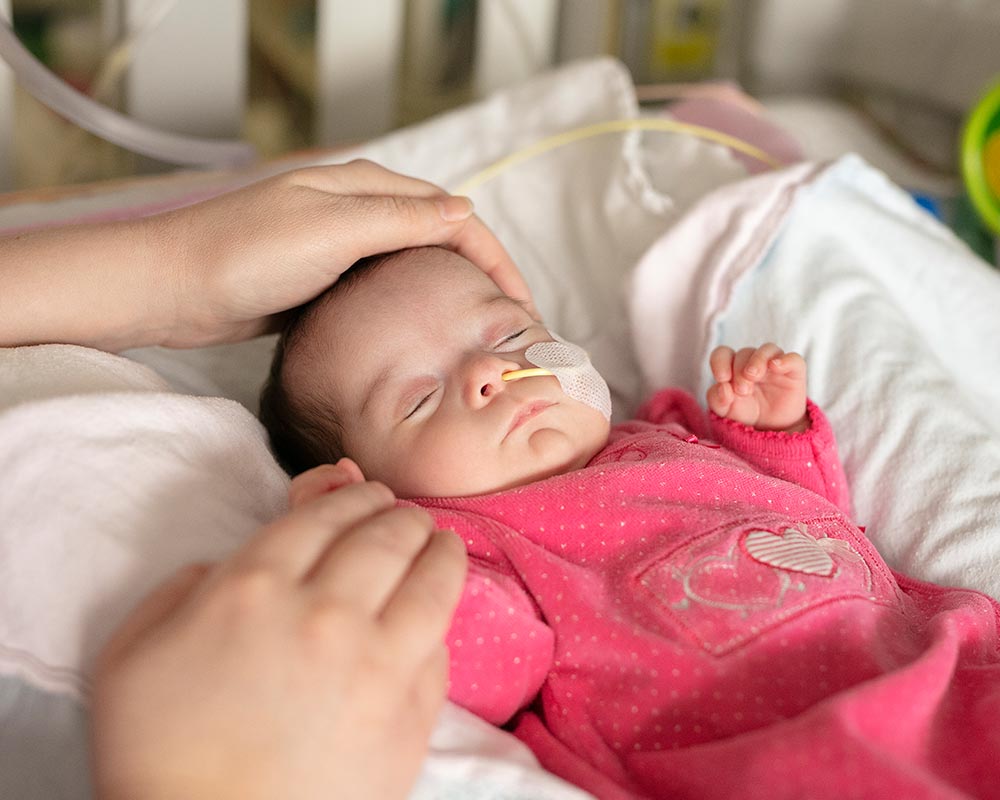 Meet Heather and Baby Leah
A difficult pregnancy resulted in Heather and Brad Jessome's now two-year-old son Kevin having special needs. So the couple began considering a second child. Heather and Brad consulted with their family doctor in Sault Saint Marie, Ontario and were given the green light.
It was week 13 of Heather's pregnancy and July 13, their son's birthday when a routine fetal ultrasound revealed a problem.
"That's when the stress started," says Heather. "It hasn't really stopped since then."
After being referred to Mount Sinai Hospital's Family Medicine Genetics Program team found that Heather's placenta wasn't working properly. Her baby's growth was being restricted. At week 17 Heather was referred to Mount Sinai's High Risk Obstetrics Program.
"After that, every week I either drove or flew down from up north."
On October 19, when Heather was six months into her pregnancy, things took a turn for the worse. She was admitted to Mount Sinai's Antenatal Inpatient Unit for intensive monitoring. On November 2, her baby's heart rate became irregular. Delayed by a backlog of emergency C-sections, Heather finally delivered baby Leah at 4:09 am on November 4. Born after just six and a half months, Leah weighed just 680 grams about one and a half pounds.
"She could literally fit into a Tim Horton's coffee cup."
Leah was admitted to the Newton Glassman Charitable Foundation Neonatal Intensive Care Unit (NICU), and Heather was discharged.
"Brad and I had nowhere to go," says Heather. "Sinai was gracious enough to let us sleep in the on-call room that night because our room at Ronald McDonald House wasn't ready yet."
During her stay in the NICU, Leah experienced numerous major medical episodes, mostly respiratory. But nothing could prepare the couple for what was yet to come. On Day 17 of little Leah's life, a routine genetic screen for newborns dealt the next blow to the family. Leah was found to have Cystic Fibrosis (CF).
"It was a shock. Absolute shock," Heather recalls. "Our son Kevin has special needs and has been screened, but he's not a CF carrier. Our prenatal testing didn't find anything because prenatal tests don't routinely screen for CF."
The surprise diagnosis earned Leah the dubious distinction of being the smallest CF patient ever seen at Mount Sinai Hospital or SickKids.
"We're forging new ground, they've never had a baby like her."
Leah has now been discharged into the care of SickKids CF Unit, where she will remain until she is stable enough to go home.
"I have been here the entire time," says Heather. "It's been hard on the family. We've had to deal with time off work, and missing and worrying about our son and being so far away from home."
Sinai became like "a second home" for Heather, she has nothing but gratitude for the staff. To set the family up for success, Mount Sinai's Family Integrated Care (FIcare) team has trained Heather how to look after her fragile daughter, so she can provide the hands-on, expert care that Leah will need as she continues to stabilize.
"I can't believe how much they care about Leah, and us as a family. Every single member of the Mount Sinai team has been there for us. Every single one. Even just with a hug or a 'how are you doing today.' They're the reason our daughter's alive and the reason our family hasn't totally fallen apart."