Breaking Down Barriers
The idea that collaboration is integral to how we care for people has come about directly as a result of these conferences."
- Dr. Mark Lachmann, Medical Lead, Bridgepoint Active Healthcare
By Marcia Kaye
The way mental health care is delivered in Canada has been changing. While the old model from 20 years ago involved a primary care physician struggling to access a psychiatric consult for a patient, today the emphasis is on collaboration among a variety of health-care providers. This means that people living with mental illness, addictions or dementia, as well as their doctors, have greater access to a network of health-care support, such as social workers, psychologists, dietitians and pharmacists.
This focus on collaboration is largely due to the Canadian Collaborative Mental Health Care Conference, which this year was co-planned and co-hosted by geriatric psychiatrist Dr. Mark Lachmann, Medical Lead at Bridgepoint Active Healthcare, part of Sinai Health System. (The other co-host was Toronto family physician Dr. Abbas Ghavam-Rassoul.) Held annually since 2000, the conference aims to break down barriers and integrate mental health-care professionals into the community, where they're most effective. "Over its lifetime, the conference has been instrumental in changing the language and the practice of supporting access to mental health care," says Dr. Lachmann.
The theme of the 2018 conference was Collaborating Across Cultures, referring both to ethnic and gender diversities as well as professional and organizational cultures. "Sinai Health made a tremendous financial contribution, and the donors certainly helped facilitate that," Dr. Lachmann says. More than 300 people attended, from across Canada and the United States and from as far away as Argentina.
How Sinai Health is bringing mental health care into the community:
Vulnerable seniors in Toronto's east end are receiving the supports they need to stay in their homes, thanks to a collaboration between geriatric psychiatry care and community social workers. Instead of making seniors with mental health problems go to a psychiatrist's office, Dr. Lachmann holds weekly clinics at Woodgreen, one of the city's largest social service agencies, and does home visits with Woodgreen's social workers. He also mentors and supports social workers through monthly sessions to discuss complex cases.
A mindfulness meditation program at Bridgepoint is one of the first programs of its kind in a rehab hospital setting. The Interpersonal and Mindfulness (IaM) Group aims to help patients cope with the challenges of a life-changing injury or illness. Run by psychiatrist Dr. Seema Khan, spiritual care manager Iryna Soluk-Figol and mental health nurse Sue MacRae, the three-year-old program is a rousing success. "People love it," says Dr. Lachmann. "It de-medicalizes people and allows them once again to be individuals."
A program for caregivers of family members with dementia helps them not only navigate the system but receive support when they're feeling anxious, depressed or overwhelmed by their caregiving duties. Heading up the program, which involves one-on-one and group support, is family physician Dr. Leslie Nickell, Medical Lead of Caregiver Support Services at Bridgepoint. Caregivers are encouraged to download the free mobile app Dementia Advisor (www.dementiaadvisor.com), which teaches coping skills and stress reduction.
A long-term mentoring program linking family physicians with psychiatrists and psychotherapists, in person and online, provides a team of quality care to the patients, but also supports the family doctors, for whom dealing with ongoing complex cases can be challenging and stressful. The program is led by psychiatrist Dr. Jon Hunter, Pencer Family Chair in Applied General Psychiatry at Sinai Health and Head of the Consultation-Liaison Service at Mount Sinai Hospital.
Senior psychiatry residents at the University of Toronto now receive direct experience in a primary care or community agency. While collaborative mental health care is mandatory for all psychiatry trainees in Canada, this program, run by family physician Dr. Kristina Powles, gives residents community-based training and gives sites improved access to specialist care.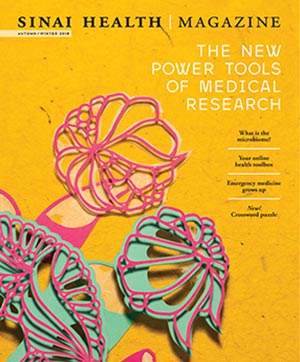 Make a gift to support life-changing research at Sinai Health System.