EMERGENCY MEDICINE GROWS UP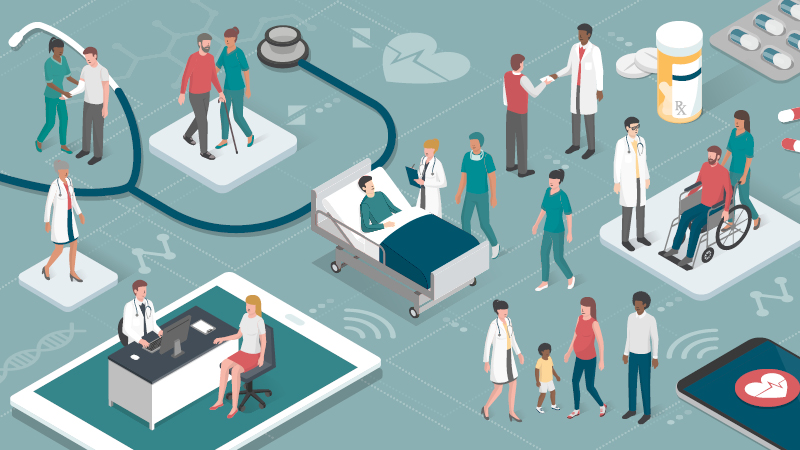 The Schwartz/Reisman Emergency Medicine Institute is driving emergency medicine research forward for the community and the world
By Nancy Carr
As far as medical specialties go, emergency medicine is the kid sibling to long-established disciplines like surgery and cardiology. With a history dating back only 40 years, emergency medicine is a young specialty only now really reaching academic maturity. While several notable Canadian emergency physicians have made outstanding contributions to emergency medicine research, Canada has lacked the kind of infrastructure support required to build a large-scale academic organization specifically to advance the study of, and disseminate learnings related to, emergency medicine.
But when the Schwartz/Reisman Emergency Medicine Institute (SREMI) was established as a partnership between Mount Sinai Hospital, now part of Sinai Health System, and North York General Hospital in 2013, that began to change.
"It's really only now that we're getting to the point where we, as emergency medicine physicians, start to look at the problems we face and say, 'How do we find a better way to look after these patients?'" says SREMI Director Dr. Bjug Borgundvaag, noting that traditionally much of the focus of emergency medicine research has been on trauma, cardiac arrest and pre-hospital care.
"So that's what we're trying to do here: generate new knowledge and then take that new knowledge and disseminate it and translate it into practice not just locally in Toronto but provincially, nationally and internationally."
That new knowledge includes how to better serve geriatric emergency patients, women with first-trimester pregnancy issues sent to the emergency department by their family doctor, people with drug and alcohol misuse problems brought in by ambulance or family members and others in our community and around the world.
The Institute is the only one of its kind in Canada, and one of just three in North America. It has 10 employees, including Dr. Borgundvaag, who has practiced emergency medicine at Mount Sinai since 1995 and holds a PhD in pharmacology. It also has more than a dozen other affiliated scholars who contribute to its mission, and it's in the process of adding two new research chairs.
SREMI is able to employ its staff and fund its researchers thanks in large part to a 2013 gift from long-serving Toronto volunteers and visionary philanthropists Gerald (Gerry) Schwartz, O.C., and Heather Reisman, for whom the Schwartz/Reisman Emergency Centre was named in 1999. Their financial contribution established SREMI and has created a stable funding platform to support the development of clinician scientists and educators in emergency medicine.
EM Cases podcast: The next level in emergency medicine education
Dr. Anton Helman, SREMI's Education Innovation Lead, is a great example of that. He is, according to SREMI's Research Director Shelley McLeod, taking "emergency medicine education to the next level."
Dr. Helman is an emergency physician at North York General Hospital. He's also a musician and a one-time recording engineer who almost followed that career path instead of medicine. He's successfully married three of his passions — medicine, audio recordings and teaching — to create Emergency Medicine Cases (EM Cases), an online hub of emergency medicine podcasts, videos, quizzes, emails and in-person conferences.
"There's an idea that a lot of learning is done in hallways in emergency departments by speaking to colleagues and experts, but in real life that only happens very occasionally," Dr. Helman says. "What EM Cases does is bring that kind of knowledge sharing and corridor learning to people's smartphones and laptops so that learners can get access to experts in specific topics and subtopics in emergency medicine in a way that's easily digestible and learned."
Until Dr. Helman joined SREMI, his podcasts were offered on a paid subscription basis, and he was working on EM Cases as much as he could between shifts. But with SREMI's support, he was able to nurture and grow his brainchild, allow free access to the site and build a team of more than 20 people.
"Bringing all my skills together is a lot of fun," Dr. Helman says. "And then just knowing that I'm educating a lot of people to literally save lives and make sick people better, it's kind of hard to beat."
The podcasts — which are the most popular element of EM Cases — are downloaded 200,000 times per month by doctors, nurses, students and others all over the world. Dr. Helman says he receives an email about once every month from a listener who used what they learned from EM Cases to improve a patient outcome or save a life.
Dr. Helman is grateful to be working with SREMI. Many of the Canadian and international contacts he's made through the Institute have contributed as guest experts on the EM Cases podcasts, and the financial assistance he's received "frees up a little bit of my time to work a bit less in the emergency department and dedicate more time to EM Cases."
"Vital" support
Gratitude is a sentiment expressed by just about everyone affiliated with SREMI. Dr. Catherine Varner, a clinician-scientist at the Institute, called the continuous funding of SREMI "vital." Being part of a well-funded organization has created stability and allowed her to plan and carry out a coherent program of research on early pregnancy emergencies without worrying about the challenges associated with grant money drying up and losing momentum between grants.
"If every three months you're having to write a new grant proposal, it's very hard to ever concentrate on the bigger picture," says Dr. Varner, who has been with SREMI since its inception. "And that's really what we're trying to do at SREMI: Focus on the priority health concerns that are important to our community and apply the research that we're doing today to the patients who we're seeing in the emergency department three months or six months from now."
" Heather and I are incredibly proud to support the excellent patient care and patient-centred research underway in Mount Sinai's emergency department." - Gerald Schwartz, O.C., Vice-Chair, Sinai Health System Board of Directors
Dr. Borgundvaag is also extremely grateful for the professional support of Sinai Health System President and CEO Dr. Gary Newton and the financial support that Schwartz, Reisman and other donors have given to SREMI during its first few years. He's especially grateful for the level of trust that Schwartz put in him and his team when they were looking to create a new and unique educational institute. "Gerry's always been a very generous person and a benefactor to the hospital," he says. "We've been so fortunate because he's been very engaged with emergency medicine. He knows everyone here and he knows exactly what we're doing, and it really resonates with him."
For Schwartz and Reisman, the feeling is mutual.
"Heather and I are incredibly proud to support the excellent patient care and patient-centred research underway in Mount Sinai's emergency department," says Schwartz. Reisman adds, "We are thrilled to see SREMI raising the level of thought leadership in the field of emergency medicine and delivering evidence-based solutions that will have a tremendous impact on patient care locally, nationally and internationally."
Changing the landscape of emergency medicine
As SREMI matures, its future is even more exciting than its past.
"I think we are going to completely change the landscape of emergency medicine in Canada," says McLeod, citing accomplishments as varied as advances in emergency triage decision-making and a smart-phone app that Dr. Borgundvaag has created to detect tremors in patients suffering from alcohol withdrawal. "We are working with our community to revolutionize kind and compassionate care for all our patients in the emergency department."
The current Renew Sinai capital campaign will also have a tremendous positive impact on SREMI. It will, among other things, double the size of the Schwartz/Reisman Emergency Centre and significantly increase the number of beds available for Emergency Centre patients.
"In addition to being able to provide high-quality care, an adequate environment is also directly tied to our ability to do research," Dr. Borgundvaag says. "For example, we are interested in finding ways to reduce delirium in the elderly. It's hard to imagine being able to measure the impact of an intervention such as providing better pain relief for hip fractures when patients are kept in conditions that are noisier and more jarring than they could be for optimal care."
He added that a state-of-the-art emergency department will also help attract top-notch trainees to the hospital and SREMI.
Dr. Borgundvaag is so confident about the future of the Institute — which is poised to make some key hires in the next few months — that he can plot it on a timeline. "In the next year, we will hope to become the biggest emergency medicine research group in Canada. Our goal, 10 years from now, is to become the undisputed international leader in the development of new knowledge and ways to improve care for emergency department patients," he says. "We want everyone in academic emergency medicine to know about SREMI."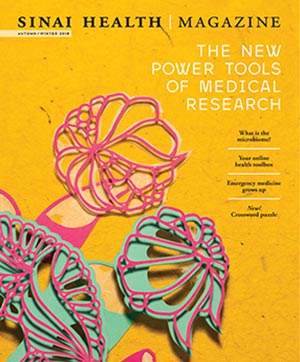 Make a gift to support life-changing research at Sinai Health System.